DEEP CREEK'S LUXURY LAKEFRONT HOTEL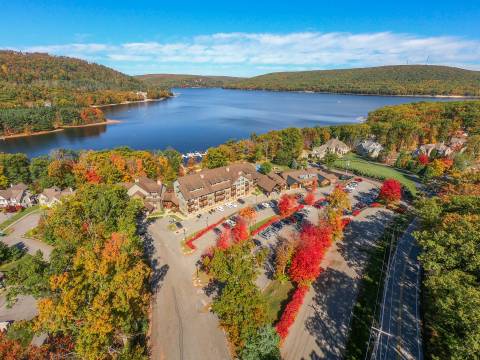 With a sophisticated design setting and beautiful mountain lake views, the Suites at Silver Tree is Deep Creek Lake's only lakefront luxury hotel. Comfort, style, and upscale decor create an atmosphere of premium lodging at Deep Creek Lake's premier luxury lodging source. Featuring 50 suites in four different sizes and styles, and the choice of lake view or standard view, our hotel is the ideal place for a getaway in the mountains. With a fireplace in every suite, a fitness room, and an expansive lobby with three magnificent stone fireplaces, the Suites at Silver Tree is sure to make any Deep Creek vacation a memorable experience.
Enjoy the winter months in our cozy suites with a romantic getaway, or a weekend on the slopes. Less than a 10 minute drive away from our winter recreation utopia, Wisp Resort, your downhill adventure awaits. After a day on the slopes or shopping Garrett County's quaint small town shops, you can relax in your suite with the fireplace on and enjoy the grand amenities. Our on-site restaurant allows you to experience Deep Creek Lake's best fine dining without leaving the hotel.
STUDIO SUITES   |   STUDIO SUITES W/LOFTS   |   ONE BEDROOM SUITES   |   ONE BEDROOM SUITES W/LOFTS